by SFS FDM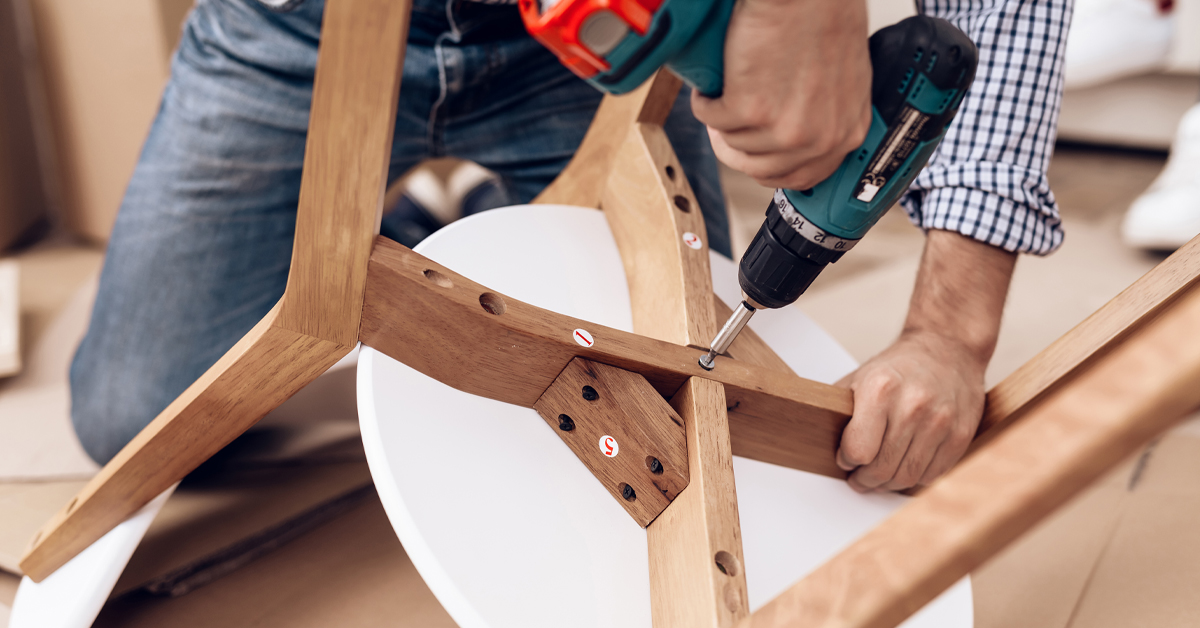 Do you like building things with your hands? As a child, did you have an impressively large collection of Legos? In your family, are you the one who always volunteers to assemble furniture, toys, or anything with an instruction manual? If so, you may be a natural fit for a career as a Freelance Retail Merchandiser who specializes in Assembly.
Like any other field, there are lots of areas of specialization within the freelance retail merchandiser umbrella. Assembly is a very good example. It requires a skill set altogether separate from the usual skills needed to work in merchandising. In this post, we'll outline the basic responsibilities and duties of Assembly work in Retail Merchandising, so you can determine if it's right for you.
A Career That Fits with Your Interests and Talents
SFS Freelance Merchandising Contractors have the rare opportunity to turn their passion for building things into a successful business that fits their lifestyle, interests, and schedule. Instead of being stuck in an office from 9 to 5, you'll be in the field, traveling from location to location working on a variety of installation and assembly jobs for many of America's largest and best-known retailers and ecommerce sites, as well as residential and office locations.
What Kind of Items do Assembly Specialists Build?
Since no two days are ever alike for SFS Merchandising Contractors, you never know what you'll be asked to build on any given day. But some of our clients rely on us to build and assemble pieces including:
Office furniture
BBQ grills
Sporting goods equipment
Outdoor furniture
Outdoor power equipment
Bedroom furniture
Infant furniture
Medical furniture
Commercial furniture
Cart corrals
In-store displays
More
Major brands like Staples, Wayfair, Amazon and more rely on SFS to assemble furniture and equipment that is critical to their business. No two days will ever be the same. On Monday you may be asked to assemble a new piece of furniture at a medical facility. The next day you could find yourself building a display for a major retailer. The day after that may bring you to a residential location, where you'll be assembling new equipment for someone's home gym. It's a career filled with variety and meeting new people every day. And best of all, because SFS has customers in nearly every U.S. zip code, you'll never have to travel far to get to a client.
Now that you know where you'll be going and what you'll be working on, let's talk about the tools you'll need to get the job done.
The Tools of the Trade for a Retail Merchandiser Assembly Specialist
As an Assembly Specialist, you'll need a bigger toolbox than the typical Retail Merchandiser. You can find a full list of the tools you'll need here, but they include:
Rubber mallet
Pliers
Putty knife
Cordless drill
Adjustable wrench
It's important to note that you are responsible for procuring your own tools. You'll also need to be relatively strong, with the ability to lift a minimum of 50 pounds.
How to Apply for an SFS Retail Merchandiser Assembly Specialist Position
Interested in being your own boss? Check.
Good with your hands? Check.
Got the right tools? Check.
If you've got what it takes to be an Assembly Specialist Merchandiser, SFS wants to hear from you. You can start by applying online here. And to see opportunities in your area, click here.
Good luck! We hope to hear from you soon.