by SFS FDM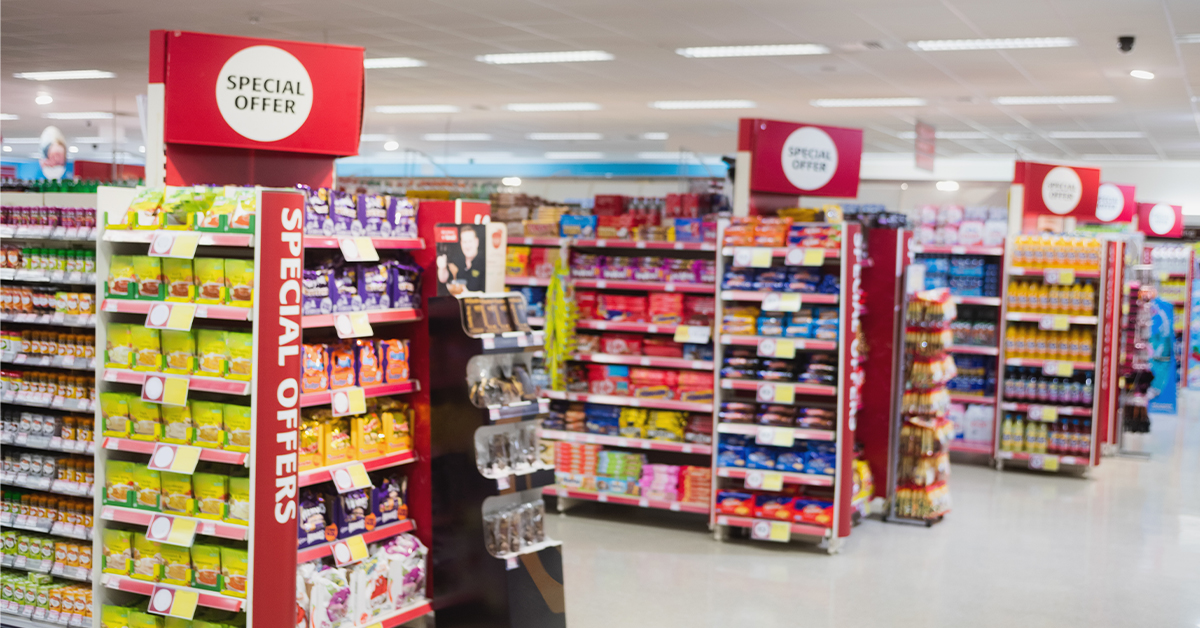 Do you confuse your CPGs with your UPCs? Having trouble understanding the difference between a display and an endcap? And what exactly does a sidekick do, anyway?
We realize that the world of Retail Merchandising can be a bit confusing, filled with acronyms, jargon, and buzzwords. That's why this month we're going to (hopefully) demystify a lot of what we do by providing you with this glossary of frequently used merchandising terms.
1. CPG (Consumer-Packaged Goods)
Consumer-packaged goods are items purchased by consumers that need to be regularly replenished. Examples are toothpaste, cleaning supplies, deodorant (we hope), cosmetics, and food.
2. Display
A display is a retail showcase designed to highlight a specific product or product group. Displays are used to draw customer attention. Retailers may stock displays with popular products, new releases or items on sale—anything that warrants special attention. There are many types of retail displays. For instance…
3. Endcap
An endcap is a special store display that anchors either end of a store aisle. You'll often see endcaps in supermarkets. See examples here.
4. Facing
In retail merchandising, an aisle is "facing" when all the products are pulled to the front of a shelf space, to make it look like the entire shelf is filled. Facing is an important merchandising technique, especially for items placed on top and bottom shelves which customers might otherwise not even see. See an example.
5. Gondola
A gondola is a type of stand-alone store display that features adjustable shelving areas on both sides. Supermarket aisles are technically gondolas anchored together. Gondolas are extremely versatile, and can be placed anywhere in a retail space to call attention to virtually any product. See a good example here.
6. Audit
Merchandisers use retail audits to ensure that products are correctly displayed in a retail space, take product inventory, conduct price checks, and more. Things auditors will check for include:
Can customers find the product?
Is the product displayed in the most appealing way?
Is the product sufficiently showcased during a special promotion?
Are products adequately stocked in the store?
Are the products priced correctly?
7. MSRP (Manufacturer's Suggested Retail Price)
Also known as the "sticker price" or "list price", the MSRP is the price a product manufacturer recommends that a retailer should charge. MSRPs are determined by many factors including costs to make the product, distribution costs and retail markup. Though retailers have the ultimate decision, it is very rare to see a product sold below MSRP.
8. OSA (On-Shelf Availability)
On-Shelf Availability is a critical merchandising metric. It refers to the number of products that are available for purchase, as opposed to OOS (out-of-stock). Managing OSA is critical to sales, especially with high-demand products.
9. Pallet
A retail display pallet is a display unit with a small footprint, with products usually stacked on top of each other. Quite often pallets are loaded directly from the delivery truck for display at the store. See an example here.
10. POG
POG (Planogram) merchandising uses a detailed schematic to predetermine where products will be placed in order to maximize sales. POG Merchandising is often used by large retail chains (for example, CVS) to create a uniform and consistent shopping experience between locations. POG schematics are created to amplify visual appeal, promote products, and maximize space. Which leads us to…
11. Planogram
This is an important term for merchandisers. Planograms are detailed drawings of a store's layout, help retailers make the best use of their space to boost sales. They are data-driven You can see one here.
12. POP (Point of Purchase)
An in-store display or showcase designed to entice customers to focus their attention on certain products, i.e. seasonal items, new arrivals or sales.
13. Sidekick
Sidekicks are in-store displays usually made of cardboard, designed to stand in high-traffic areas, They are a great way to clear out inventory in a short amount of time. Batteries, and seasonal items like sunblock are frequently sold in sidekicks. Take a look.
14. SKU (Stock-Keeping Unit)
Stock-Keeping Units, or SKUs, (pronounced skew) are alpha-numeric codes used to track and identify stock. SKUs are chosen by the manufacturer to identify product characteristics like size, brand, style, and color. A common misconception is the SKU is the same as the bar code number scanned at the register. They are not. That would be the…
15. UPC (Universal Product Code)
The UPC is the 12-digit numeric code read by bar code scanner. You can get an in-depth history of them here.
16. Quantity on Hand (or OH)
In inventory management, Quantity on Hand refers to the minimum amount of a product to be stocked on the shelf to ensure the retailer will not run out before the next order. Having as close as possible to the OH can minimize overstocking and free up inventory space.
17. Distribution Center
Also known as a distribution warehouse, this is a storage facility used by a company for temporary storage and redistribution of goods based on customer orders. It is different than a main warehouse, and are usually located regionally.
18. Shipper
A shipper is a self-contained display that is usually made of cardboard. They are used to showcase new products, and come with customized branding to grab customers' attention and boost trials. Shippers are popular retail displays because they don't take up additional shelf space, they come prebuilt, and can be placed virtually anywhere on the floor. See here.
19. Freestanding
Freestanding displays are similar to shippers in that they are cardboard display stands used in retail spaces like supermarkets. They are designed to boost brand awareness and grab customer attention. Like the name implies, they can be placed anywhere in the store and do not need to be anchored to an aisle or endcap.
20. OOS (Out of Stock)
Every time a consumer tries to buy an item, only to find it unavailable, is an example of OOS. Studies show that the OOS average is around 8% nationwide.
There you have it…everything from Audit to UPC. We hope this clears up a lot of the confusion about merchandising terminology. Have we forgotten anything important? Let us know!